Thames Turbo Sprint Series Race 1
For weeks I thought I was not going to be able to enter this race after tearing (potentially) my intercostals, but I couldn't miss the first race of the new Triathlon season. I decided about 10 hours before the race started that I should give it a go. So after packing all my gear into my bag, getting my aero helmet and TT bike sorted to try out in a race for the first time I went to bed excited that my season was about to start.
The season didn't get off the the best start, when I forgot to register and then tried to start but wasn't allowed. Thankfully I woke up – I was only having a bad dream! Next dream was even worse when I forgot to rack my bike and had to get it out of the car once I had finished the swim. I'm a little worried that dreaming about triathlon means I might be taking this a little too seriously.
When I finally finished dreaming about triathlon I woke bright and early at 5am to load the car and get over in good time, parking easily and being all registered by 5:45am. This being my first Thames Turbo, I had no idea I would be standing around for 2 hours until all 483 competitors before me got started at 15 seconds intervals.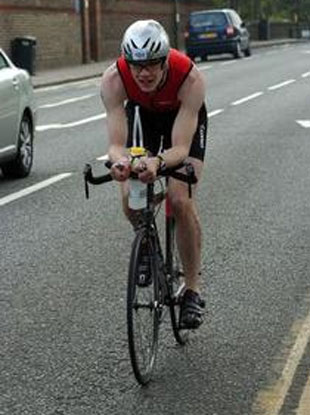 Eventually starting, I got the swim out of the way in a respectable 8:30 minutes, then I went out on the bike. The TT bike just didn't feel fast. I couldn't seem to get the pace up to what I wanted, the roads were horrible, but I got through and started on the run. I was passed by Louie of the Viceroys about half way round the bike course so that was my motivation on the run, get back in front and hold it to the end, which happened approximately 4km into the run.
After finishing in 1:14 I decided that I need to do Thames Turbo Race 2 on 4th May to find out what time I can get with proper preparation – not to mention a decent bike leg. So 5am starts for a bike and a swim it is I guess, because I'm determined to finally finish first out of all the people I know, if it kills me. Which is a distinct possibility.