The past four days have been awesome, since I have been cycle/triathlon training with Richard from work, Gaunty who we swim with and his mate Nick.
The Pyrenees are beautiful and while we knew we were in for a tough time with a few big hills, no one really expected to be staying at the bottom of a hors catégorie climb in Col du Tourmalet. Round the corner was the Col d'Aspin too which has featuredin Le Tour de France 66 times. So the climbing was awesome, tough, beautiful, painful, challenging, sweaty and required a lot of determination.
Climbing the Col du Tourmalet as soon as we got there on Saturday morning was difficult enough. Of course the next day, the riding an undulating 70km (via Lourdes and Bagneres de Bigorre) and climb the other side from the West to on Sunday was unbelievably tough.
On Monday we managed to fit 2 Cols into out ride, by riding a nice small road Col near Heches, then up the Col d'Aspin from the East. It was in between these two Cols that we discovered Richard G didn't actually have the compact chainset that he asked for on his Specalized Roubaix S-Works. Which provided amusement, expect for the fact it just showed his strength while he beat me up most hills, or mountains!!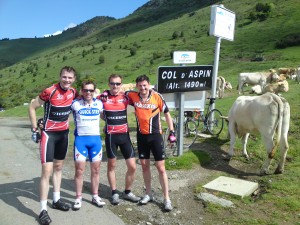 Tuesday was the last day so it was a straight sprint up Col d'Aspin from the West and back down again to pack up and head home.
What a fantastic few days it was and I absolutely want to do this again, only next time I want to take those hills by the scuff of the neck and keep up with the rest of the boys, if not bethe first up! Although as I was riding with 2 Ironmen, this might be more difficult  than it seems.