…start a company.
That's what I though a few months ago and I have.  I am now full blown freelancing and contracting and generally working 15 hours a day until I get settled into a regular schedule.  Today I Should Ltd should see me good for a while. Unless other things come along (not that a pretty damn good company/start up site has been in touch to see if I am interested, well, one has which boosted my ego quite a bit last night) I see this suiting me quite well once I get evenings back to myself.
So far its going very well, aside from working far too hard and not seeing enough of anyone that I should be spending time with – but its all going to work out in the long run!
Anyway – as soon as I get the branding and such started, I'll get a web development blog started on todayishould.com where I can keep professional head on and open this blog up to blatant whinging and bitching!
Before I start this rant, I will add the disclaimer that I should take heed of the title myself, I am under no illusions about this. Not following this advice started the whole thing.
However I was annoyed at the time and still stand by my opinions. I am referring to a twitter slanging match (there's no other way to describe it) regarding, to put it bluntly, respect for the dead.
The offending opinion was: "There are fresh flowers outside Kensington Palace for Princess's Di. WTF! She's been dead for over a decade people! Time to move on!"
Wrong.
Now I must admit that I probably shouldn't have used the "T" word in a reply, but I was angry. Why can't people leave flowers at any location to remember someone. Especially someone that did change so many people's lives be it from land mine charity work, AIDS and HIV awareness efforts or just being a public figure.
Fair enough, maybe there are better places for remembrance offerings, but is there any need to tell people to move on. When walking past flowers, my immediate response is a thought that it is good that people are being remembered, not that they were doing it wrong or should get over it.
In my opinion, that is just being a twat.
Shakespeare was an excellent author of fiction. I fear Sebastian Shakespeare of the Evening Standard columnist of the same name is following in his namesakes footsteps.
Following the introduction of a death by dangerous cycling bill, Julia Hartley-Brewer gave typically misinformed and biased bullshit on her sad excuse for a radio programme and now it seems everypone has to have a go at Cyclists.
Well done for jumping on the cyclist bashing bandwagon with your article "Cyclists have had an easy ride too long" Sebastian Shakespeare, however as commented on your article, here's my response to your drivel:
You say that cyclists should have insurance (I do have third party insurance, FYI) but try having a look at the uninsured drivers stats first. When that problem is resolved try bringing in another rule for the contraptions that will do minimal damage (in most cases) to a person or other road user.

We haven't had it easy, how you would call being hit (side swiped on a straight road) by a HGV and hospitalised easy (myself, July 2010) I don't know.

A minority will flount the rules, and I try to tell the law breaking fellow cyclists of the reputation they give us. But you say we run red lights, in the eyes of the law I could give you hundreds of car (and motorcycle) registrations each week that are all positioned in the cyclists area at junctions, ignoring the ASL (Advanced Stop Line) making life much harder for cyclists to be safe.

How about the traffic wardens look at them too, or is that victimising the car drivers too much?
I could go on, and I'd like to have a conversation with Sebastian, but (as he pointed out in his article) he'd rather speak to someone who has poor English language skills than hear my northern twang. My money is actually on the fact that he has some form of regional accent. Or maybe he is too focused on writing shit that he never speaks.  Maybe I should give him a Glasgow kiss to justify his apparent lack of respect for anyone.
This afternoon I saw on twitter that LBC were doing a bit of cycling bashing. So I thought I would listen in, at no point would I have thought that I would get this angry about the presenter, callers or even the cyclist that phoned in.
When they started by stating numerous times (the ill-informed Julia Hartley Brewer and callers alike) that car drivers pay to use the roads so should have exclusive use of them, I was hoping for ANYONE to point out that Vehicle Excise Duty (VED) does not pay for the roads, but roads are paid for by regular taxation, so I do pay for the roads, even if I don't have a car or a bike. Check ipayroadtax.com for more details on that, but safe to say they are wrong. I did call in but unfortunately LBC didn't call me back.
And MOTs, licenses and registration plates for cyclists is a useless suggestion, considering the police struggle and pretty much fight a losing battle against motorists who drive without insurance, how the hell do you expect this to be enforced. If anyone has any ideas I'd love to know.  Before anyone mentions insurance, I have third party insurance on my bike, although I would never expect to use it.
Next, callers were virtually threatening cyclists. I don't remember his name but the driver that said of cyclists "I've hit one before and would do it again. If they're in my way I'll run them down." WHAT THE FUCK. I guess it says something that the caller drives a BMW but I wish he had given his number plate so I can avoid him altogether. And report him to the police if he tries to use his car as a weapon.
Cyclists that "wear lycra and think they're professional cyclists" should dismount and use a footbridge (as suggested by a caller) is bollocks. We have a right to use the road and when we are traveling at a fair speed, why should we sacrifice journey time by minutes when we would only hold up cars for a few seconds, most of the time.
To the cyclist who is the only one who doesn't break the highway code and thinks other cyclists (and I think he included the LCC in the statement) are arrogant scum is living in his own little world, I see hundreds of cyclists every year that are fine cyclists and don't jump lights and so on.
And as for the presenter I don't remember the complete build up, but saying that if you kill a cyclist you should be the one people feel for is pathetic, you come across as a selfish cow. You have no more right to use the road than a cyclist, and while I can't remember the incident as you described it, I do remember thinking you did not have right of way, so it would have been your fault. Maybe you can email me at matt@mattbee.co.uk to explain it again, because I now simply believe you to be a danger to myself and other cyclists for not even knowing the highway code.
I am very sorry that LBC couldn't call me back so that I could defend cyclists and point out their errors, ask why they think the aggressive behaviour of some motorists is acceptable and why a 4 year old case has brought the fact that a cyclist could kill a pedestrian into the media spotlight when hundreds (or thousands) of cyclists AND pedestrians are seriously injured by motor vehicles all the time (no pedestrian deaths in the last 4 years involving a cyclist hitting a pedestrian, there have been 3 people killed by cars or lorries in the past 2 weeks!).
And don't get me started on Advanced Stop Lines (ASLs)… when will drivers/motorcyclists get punished for entering those I wonder.
Last night was pretty enjoyable, had a nice London HTML5 User Group talk, entitled "EXTREME WEBSOCKETS TAKING YOUR WEB APPS INTO NEW, UNCHARTED TERRITORY" (couldn't be arsed to fix the capitalisation, sorry!).
The talk focussed on what WebSockets are, how they work, and some real life cases for use. Replacing technologies like COMET and long-polling and streaming is the goal. Examples of real life use that Peter Lubbers (@peterlubbers) highlighted were things such as stock tickers, news feeds, games and many more. Some of the demos are on the Kaazing website at kaazing.me.
Then some real demos showed the possibilities of WebSockets, who knew that using HTML5 Canvas and WebSockets (plus a couple VNC servers) remotely controlling another machine would be possible. Github has given me some example code, but not tested or used this. There was of course one of my favourite canvas and WebSockets examples, Rawkets, the asteroids style massively multiplayer game. Which I am getting quite good at.
While a lot of the technologies people asked about, and some of the technical details of server stuff, were well over my head, I definitely think I can and will use websockets eventually. Probably going to continue on my learn JavaScript properly first, but looking forward to WebSockets and Canvas after that!
After visiting the Middlesbrough Football Club site and MFC Official Direct shop (http://www.mfcofficialdirect.co.uk) today, I was left embarrassed as a Boro fan at the state of both web sites. Below are open letters which I hope representatives of both will see and respond to.
Dear MFC Official Direct
When seeing an advert for the 30% off sale and Boro replica kits for only £15 I was very happy and ran straight over to the store to get myself a replica home kit.
However the experience I had left me shocked, disappointed and embarrassed. Now let me say that I am a Boro fan and a front end developer (so I can understand when things aren't perfect), but still feel the need to expose the pitfalls of this site in public.
My first issue was when I tried to update my delivery address, having moved jobs and so I couldn't have the parcel delivered to my old place of work. However it appears I am not allowed to move companies, the company name could not be edited. ANYWHERE. Not on that form, not on my account page, not on mange addresses through my account page, nowhere. The company isn't even called Gyro International anymore!
Following that annoyance, I thought "Fine, I'll just add a new address. But then I couldn't add a company name to go with that, and being in a shared building with many other companies and nowhere to add a company name and few form fields for address I thought I would have it delivered home.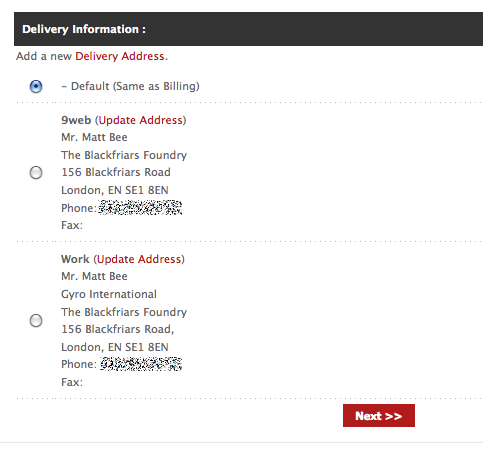 I thought that would be fine, but alas no. Following selection of delivery type in step 2 I was thrown to the confirm order page. Step 4. Hold on. That's missed step 3, and I haven't entered my payment details yet? But I'm on the last step? Oh well. I guess this really is a good shop! That was confirmed by a nice page telling my my order has been successfully placed! Excellent, I don't have to pay it seems. Maybe now Mido is back he is funding a shirt giveaway to try and make someone love him!
Alas no, after a second or two I was delivered and Sage Pay (formerly Protx) payment page. Now this possibly isn't MFC Official Direct's fault, however it is still part of a flawed process. And anyone that spends £12.7m on Alfonso Alves must have some cash somewhere to invest in a seamless checkout process. Or at least one that allows the checkout page to be on brand, not hideous and at least not be included as step 5 of 4.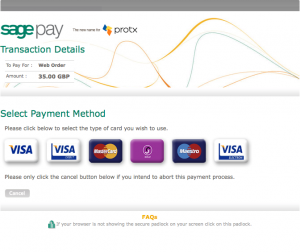 So after all that and finally getting my payment details in, I notice that Sage Pay have thankfully printed my delivery address so I know its right:
**Flat E
London**
(They printed my postcode too, but that's private!)
Now I know the postcode will probably mean that as a delivery address might just make it, and maybe the full address has been stored, but why print only part of the address. Thinking about it, there are quite a few flats in my area so Flat E, Putney might not make it. My address is a required 2 lines before the town and postcode so why not just show me the details so I don't think you've lost half my address along the way. Same goes for invoice address. Just show it all or people (including myself) might not be confident you have managed to pass the correct delivery information and that we may never see our goods, many of which are quite expensive on the MFC Official Direct store.
Anyway, after this traumatic experience it'll be a while before I use the MFC Official Direct store again, however I also have some gripes with the Middlesbrough Football Club website itself, so this probably isn't the last you'll hear from me. Thankfully however, at least the agency that built the site are linked to in the footer, so it can act as a reminder to never, ever recommend Black Magic Digital of Glasgow as a digital agency. They apparently missed out on the user experience chapter of every book they ever picked up.
Yours,
Matt Bee
Boro Fan and Front End Developer
Today the "Road to Hope" convoy bound to deliver aid to Gaza, Palestine has been taken hostage by a Greek ship owner, who was due to transport them from the Lybia/Egypt border following the Egyptian government denying access by land. Among the group being held hostage are 3 Libyans, 6 UK nationals, 2 Irish, 1 Morrocan and 1 Algerian. Interestingly 2 of the Lybians are Port Officials. Among the UK nationals is my friend Kieran, someone I have respected and admired for many many years.
Having been paid $70,000 to carry out the transport the owner and captain apparently then held out for more. With no more funds being given over and the initial funds recovered, the hostage situation came about. Leaving the harbour by force and half closing the drive on ramp with a vehicle still on it I'm sure there might be more to the story than anyone but those aboard know about.
Bit worrying for Kieran, but I know he is well versed in the politics of wherever he goes and has 12 years experience in the aid convoy business, so hoping that everything works out.
Following quite a bit of pressure through social networks from Kieran's friends on twitter and facebook, it seems we've got some action by the press and government agents with the BBC hopefully picking up the story (thank you @KirbyVictoria), earlier featured on CNN. I'll await news from the media all evening and I expect for a short while yet.
Where's Jack Bauer when you need him. Or the Expendables, remembering the first scene from that film.
More links on the story:
This error was bugging me for about 2 days, so I though I would post this to a) help me remember to code properly and b) help someone else solve it in the unlikely situation of it happening elsewhere.
Basically, in IE8 and IE8 only, I was getting a helpful error message that said: line 1421 in jquery.js: Failed. Line 1421 was because I had uncompressed jQuery to try and find the problem.
The only other example of this error I could find (also found by Kenneth) was this instance: When jQuery returns "failed" in IE – and how it's probably resolved which while it helped a bit, we weren't using any live events.
So to the issue, after much troubleshooting and major investigation work, we resolved that in the (not sure if these are core within Drupal) Drupal installation, jQuery 1.2.6 was used with an old version of jquery.forms.js. We found that some of the forms plugin called methods that only came into jQuery in 1.3 (namely closest() ). Calling these non-existant methods caused the javascript error "Failed".
The absurdly easy solution following hours of troubleshooting, was upgrade both jquery.js and jquery.forms.js to the latest versions. Bosh. Have that IE8.
So the moral of this story is ALWAYS KEEP YOUR LIBRARIES AND PLUGINS UP TO DATE!! And if you get the IE8 "Failed" javascript error, make sure you are calling methods that exist.
This has cropped up lately following Elliot Jay Stocks post (and tweet). So here's my tuppence.
Should designers be able to code their designs?
No.
But then again it isn't that cut and dry. I think that there are a very small number of designers that might just be able to get away with it, but they are a minority in the geek world. There's a reason people like Andy Clarke and Elliot himself are respected so well, because they are skilled and motivated enough to keep on top of design and code. For the majority of us we should specialise in design, front end development (HTML and CSS) or back end development. I also still think there's a place for pure JavaScript developers (reducing the reliance on jQuery and other frameworks to optimise code).
So should designers know how to code?
Yes.
Learn how designs are laid out, learn how positioning works, learn about floats, browser bugs and the deficiencies of Internet Explorer (and Safari, Chrome, Opera and Firefox for that matter). There should be no excuse for providing designs that are an absolute nightmare to build, but it doesn't mean you have to be able to build them yourself. If you know the limitations of the technology you can both design to their limitations and think about ways to get round that and make your awesome designs work.
Which brings about an interesting point, the best way to learn HTML and CSS is just to do it, so if you ask the question again, the answer might be different.
Should designers be able to code their designs?
Yes. But don't let them build the production site.
Why not then, if they can? The intricacies and time spent on testing and debugging is a start, but I also spend a lot of time keeping up to speed on how Google looks at my code, mobile development, I'm still getting to grips with HTML5 and CSS3, I'm work hard on optimising code, and if I had to do all of that and design sites I build I would let myself down in one area. Not to mention I am not a designer, I do code, that is my passion and so I'm sticking to it and not learning design or keeping on top of design to be able to do both.
You could well apply the same principle to the difference between a front end developer and a back end developer, but I've got work to do!
Hoorah! I took a bit of time over Christmas to read and review the book Website Owners Manual by Paul Boag, of BoagWorld podcast and Headscape design agency fame.
My review which I recorded in January made it onto the podcast number 198, and as it was the author presenting the review, it became a lot funnier than I had ever planned!
Transcript:
The website owners manual by Paul Boag, published by Manning Publications
The website owners manual by Paul Boag is targeted to help those who own, run or manage web sites make them more successful. A quiet and humble man Paul has attempted to deliver all the lessons learned through more than 10 years of experience, at all stages of a site lifecycle, into a single resource. The result is a book that will help those responsible for websites be as successful as they can.
Covering topics ranging from selecting the right web agency all the way through to planning for the future, not all content might be appropriate for all website owners, but if the desired audience pick up this book, I don't think there a single reader that will not learn something and become more successful in their role because of this book.
The book contains succinct well considered advice, which will not overwhelm any reader. I thought there might not be quite enough in depth information, or further resources, provided some sections to really make a difference, like reviewing site analytics. The book could have also better proofed, but this is a matter for the publishers. Not to mention one of the images depicting a developer in a tie.
The website owners manual is divided into standalone chapters that each covers a different stage or process involved in running a website. The 12 chapters cover:
The secret to a successful website
Stress free planning
The perfect team
Differences over design
Creating killer content
User centric design
Ensuring access for all
Taking control
Decoding technobable
Engaging visitors
And finally, Planning for the future
Although not all chapters will be relevant to all website owners, and any experienced website owner will probably have a lot of the advice and recommendations in place, there is still an awful lot to either learn, or be reminded of while running your website.
The topics covered in the book do a good job of providing a feel for the requirements of each stage in the web site process. Some really useful content includes stress free planning, the perfect team, decoding technobabble and becoming number 1 on google.
firstly, Stress free planning, where in the "picture your users" section, Paul explains how you can research properly, prioritize your users and use fictional personas to better understand and relate to your target audience.
The Perfect team does an excellent job of explaining why a brief is so vital, even for small changes. Including an annotated example brief for fictional client "The Joke Factory" to explain why each part of a brief is so important.
Selecting the right people to work on your website might be the most important (and expensive) decision you make in the whole life of your website so it was good to see the steps Assessing proposals, interviewing the short list and evaluating agencies (especially with advice on talking to references).
Decoding technobabble is a problem for all us developers, so despite Paul claiming web developers are going to hate this chapter, I know my clients won't hate me reading it. Not using simple terms to explain how a website works and introducing concepts like hosting is something I know I frustrate people with, but not for much longer.
Whilst reading the becoming number 1 on google section in the chapter driving traffic I was very pleased to read Paul explains about Black hat search marketing methods and why site owners should steer well clear of these underhand techniques.
In Planning for the future, I can take a lot from concepts such as Microformats, APIs and alternative devices concisely explained direct to my clients.
I really think this book is a must for any person responsible for a website, due to the wide range of topics covered. Although as I said, not all chapters will be relevant to all website owners, there will be more than enough for the book to be a real valuable resource. I like to think of it as a fully fledged consultant sitting on my bookshelf.
There were real moments of enlightenment about how I can help clients really grasp the requirements behind an effective site. I hope this will dramatically improve my client communication using Paul's thorough but clear explanations of the concepts required for a successful website.
So that's what I thought about the website owners manual, but its only the tip of the iceberg, and each person that reads the book will take learn something different, so I urge you to buy it and see what it can do for you.